Crown Sports Bar
The home of sport
When it comes to non-stop sporting action, Crown sports bar Perth has you covered. Catch up on all the latest action from EPL and AFL to UFC and NBA live on the big screen. Get amongst the fan action and check out the live schedule for upcoming game times.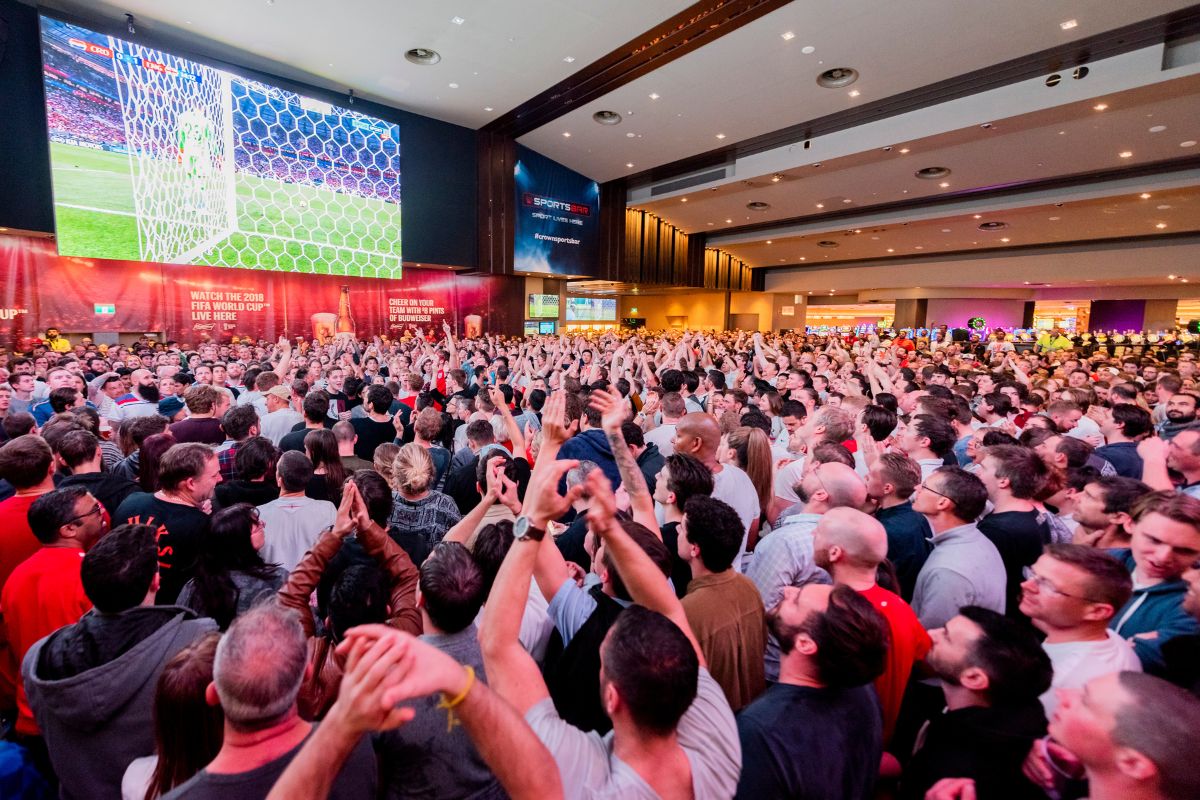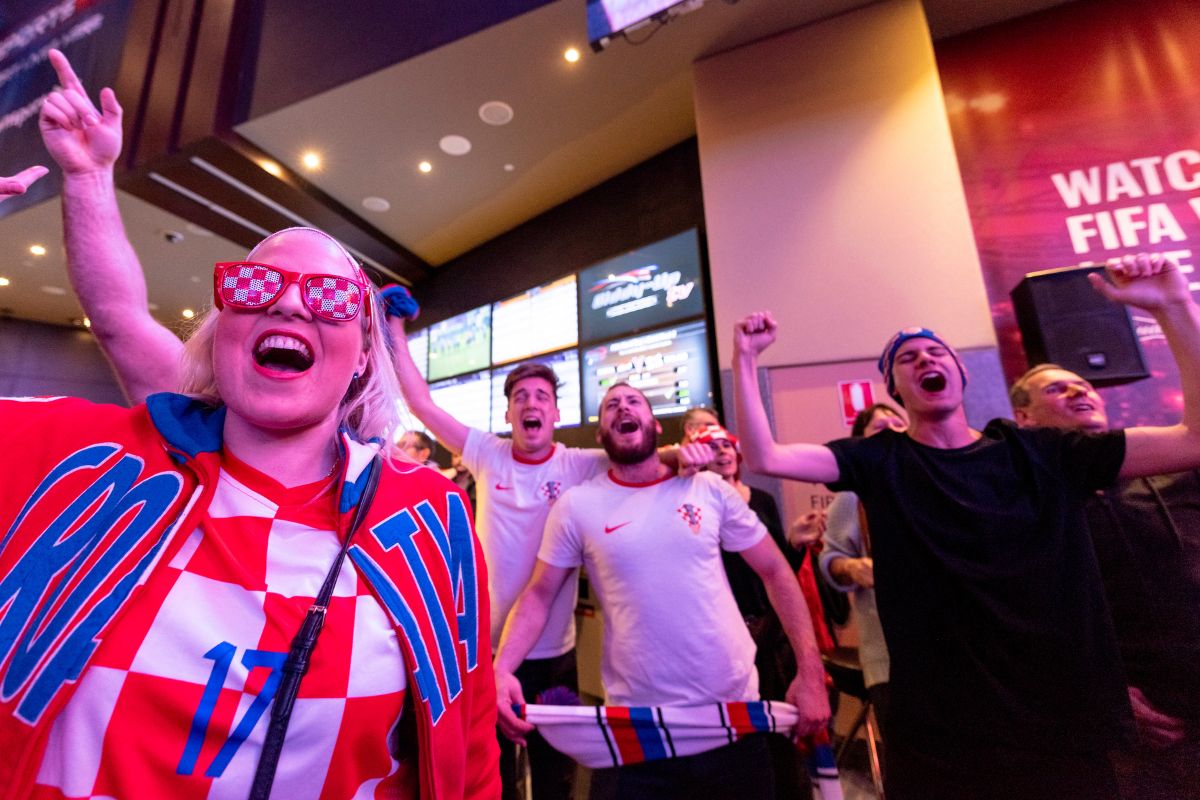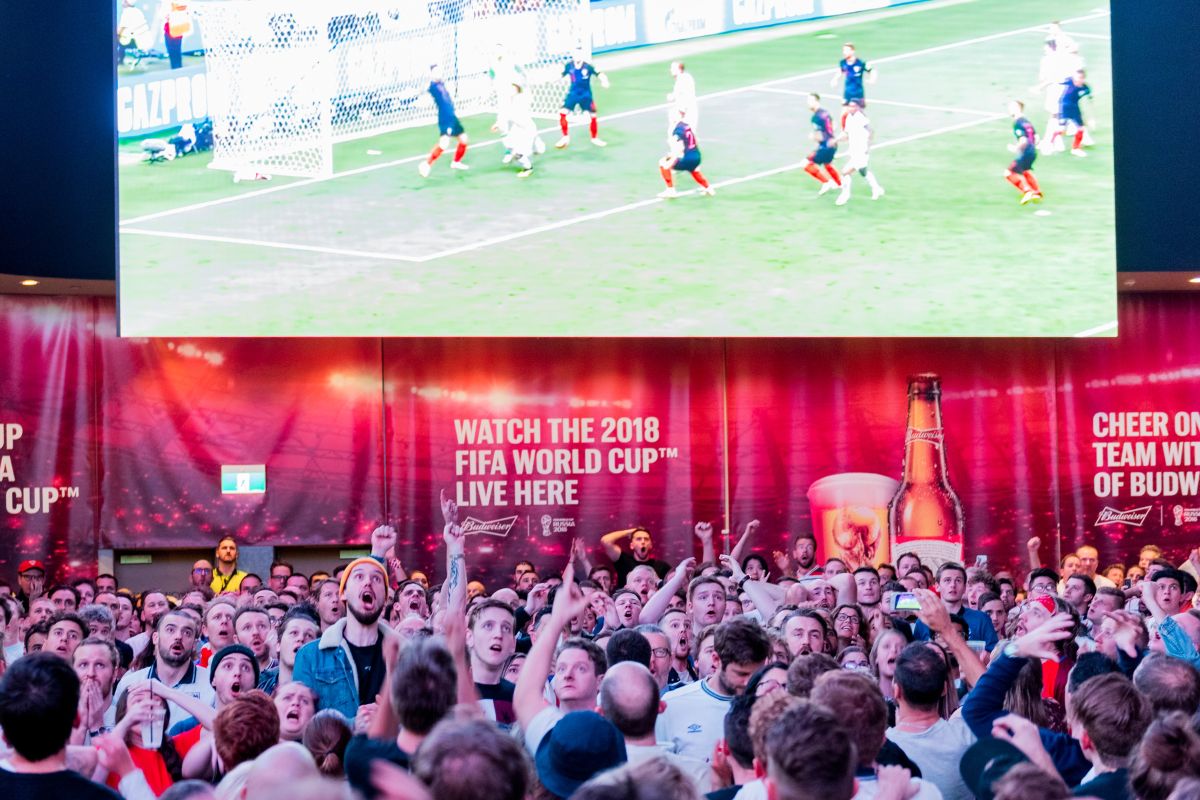 what's on
Put your game face on
Never miss a game and check the line-up of upcoming sporting events on the big screen at Crown Perth sports bar. With a great atmosphere and crowd-favourite meals, there is no better place to watch the game.
pre-game fuel
Feast on fan favourites
Enjoy pub fan favourites at Crown Perth sports bar in the CBD. Whether you are on your way to or way back from Optus stadium or enjoying the game from the big screen, fuel up and cure your cravings with tasty special offers.
Experience
Never miss a moment on the big screen
When it comes to non-stop sporting action, Crown Perth sports bar has you covered. Why watch the game at home when you can catch all the action from EPL and AFL to UFC and NBA live on the big screens at one of the best Sports Bars in Perth's CBD and enjoy great food.
Crown Perth Sports Bar features high-quality screens spanning an impressive 139.5sqm and features two bars, TAB facilities and a private viewing area, The Box, which is available to hire for sporting events and functions.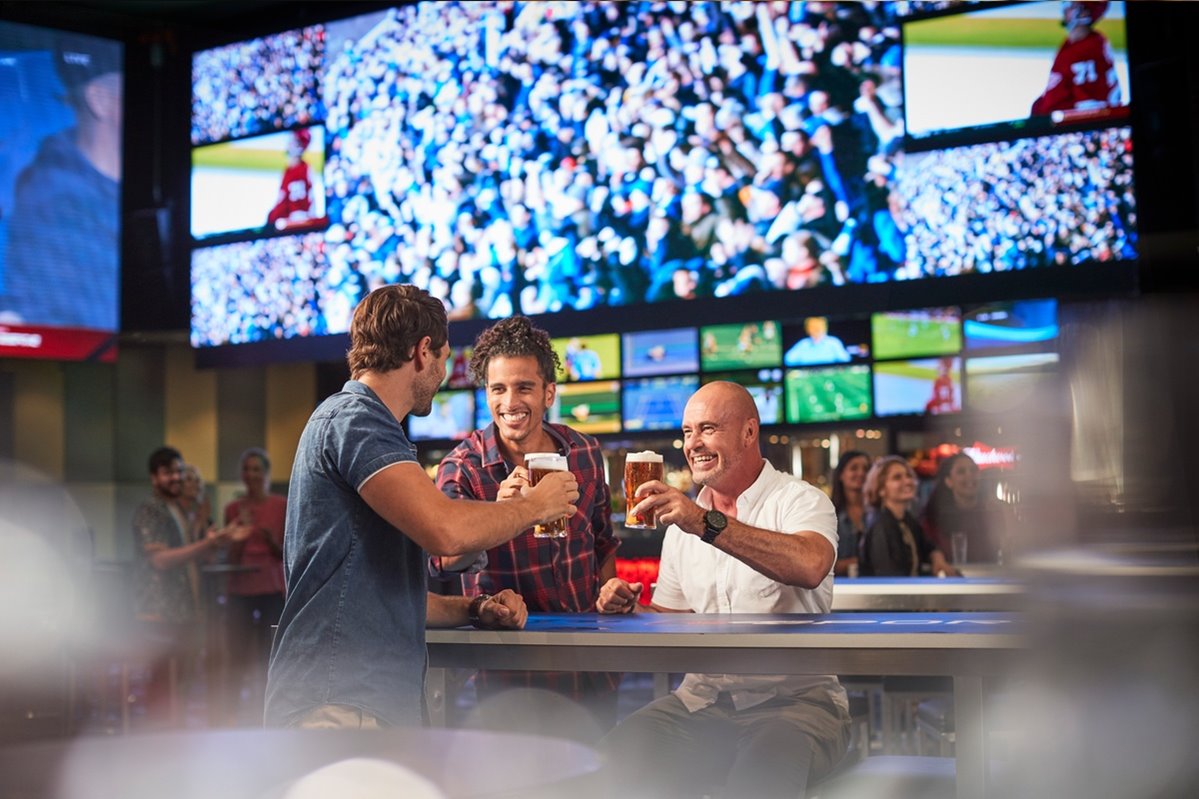 The Box
Elevate the excitement with a VIP experience at The Box
Enjoy the game with a private VIP experience at The Box in Crown Perth. With space for up to 18 people, including 12 Recaro seats and additional standing room, your event will boast the best view of the high-resolution sports bar screens, tailored drink packages and a personal host.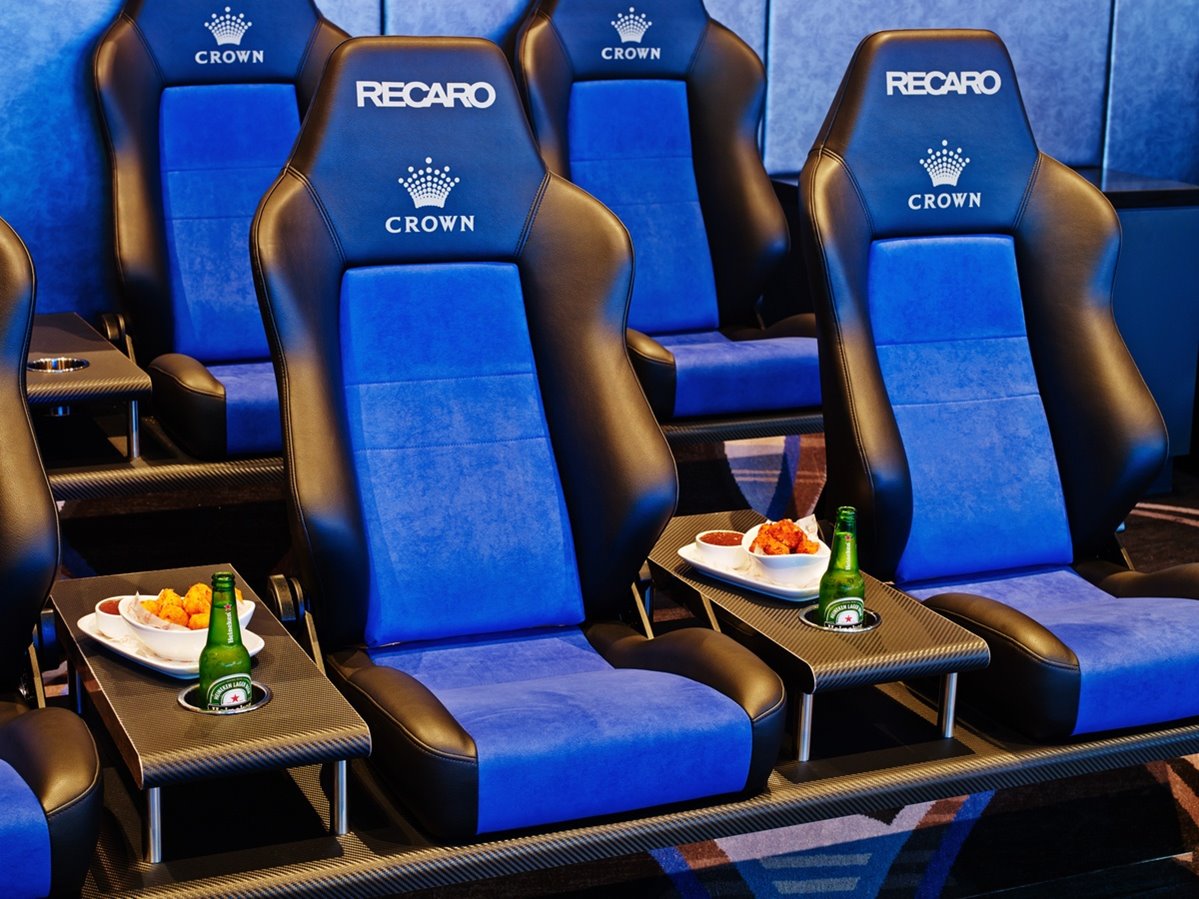 Awards & accolades
AHA WA Hospitality Awards for Excellence 2020
Best Sporting Entertainment Venue
AHA WA Hospitality Awards for Excellence 2019
Best Sporting Entertainment Venue
AHA WA Hospitality Awards for Excellence 2018
Best Sporting Entertainment Venue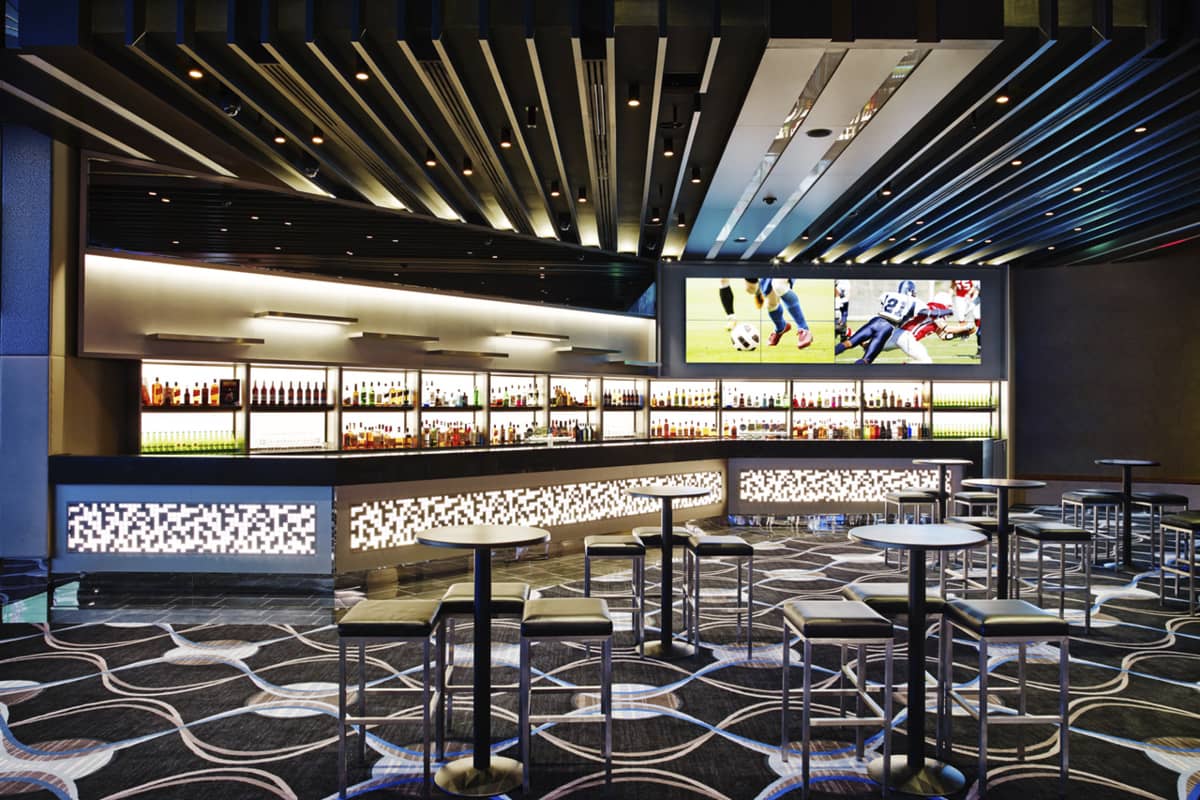 OPENING HOURS
Bar Operation Hours
12pm - 10pm (Mon - Thu)
11am - 1am (Fri)
11am - 4am (Sat)
11am - 1am (Sun)
Crown Sports Bar is an 18+ venue. Opening hours are subject to change.
FAQs
Need to know a little more?
Read our frequently asked questions.
What is the Crown Casino dress code?

The minimum dress standard for the Casino is neat casual and footwear is required at all times. Crown Perth reserves the right to apply discretion in maintaining these dress standards and may refuse entry or service to, or request a guest to leave, where they do not meet the required standard.

The following dress is unacceptable in the Casino:

untidy, torn or soiled clothing or footwear, not including fashionably ripped jeans, where the torn fabric is not excessive

immodest or indecent clothing such as sheer or revealing items that show visible breasts and/or buttocks;
clothing with lewd or offensive design or wording;
singlets or tank tops where the overall appearance is not neat casual such as work and gym singlets or tank tops;
running shorts, gym activewear;
untidy tracksuits;
manual work clothing including overalls or high visibility wear;
sleepwear, swimwear or beach clothing;
footwear deemed not suitable such as rubber thongs, crocs, Ugg boots, hard toed work boots;
fancy dress, hats, caps, beanies or bandanas (exemptions may apply for specific events or functions);
clothing or accessories that present a security risk or health and safety hazard;
clothing, accessories or visible body markings bearing patches, logos or insignia which indicate membership of, or association with, any Outlaw Motorcycle Gang; and
headgear covering a guest's face such as a helmet, mask or beanie not including special event headwear approved by Crown Perth or headwear for religious or medical reasons (medical certificate required);
any other clothing or footwear deemed not appropriate or suitable.




Please note:

Crown Perth may request the removal of headwear not covering a guest's face (including caps and hats) in certain areas;

visible tattoos that aren't offensive in nature, branded sports shirts, scarves and AFL guernseys worn over the top of a shirt with sleeves are all acceptable but are at the discretion of Crown Perth;
large bags, briefcases, suitcases, laptops or similar items are not permitted in the Casino but may be stored in guest lockers;
hotel guests, not including persons under the age of 18 years, may transfer luggage between the multilevel car park and the hotel using the most direct route through the Casino;
upon request by Security, and persons may be required to produce or open for inspection and bag, package or other item, which is in his or her possession whilst on Crown Perth property




For further information regarding the Casino dress standards please call Crown Perth's Dress Smart Information Line on +61 89362 7693.
What is the Sports Bar booking policy?

Please note a 10% surcharge applies on Sundays. A 15% surcharge applies on all Public Holidays (one surcharge fee of 15% if Public Holiday falls on a Sunday). An additional service fee of 10% applies to bookings of 10 people or more. We take note of your table preference; however, table location is subject to change. Your seats will be held for 15 minutes post your reservation booking time. Should you wish to cancel or amend your reservation, contact us at least 24 hours prior to your reservation. Ensure you refer to the full booking conditions when making your reservation.
Do I need to book for lunch or dinner?

Online reservations are recommended for lunch and dinner across Crown Perth's restaurants and bars, however walk-ins are also welcome, subject to availability.
What is the cancellation policy for bookings?

Credit card details are required to secure all reservations. No charges will be processed on your card at the time of booking. Should you wish to cancel or make changes, please contact at least 24 hours prior to your reservation, or a cancellation fee may be charged to the card provided.