Crown Promenade
Welcome to Crown Promenade
Crown Promenade offers the perfect blend of comfort and convenience for the savvy business or leisure traveller. Located a short 10-minute drive from the Perth CBD, Crown Promenade also offers an impressive Business Centre for you to host your next meeting or conference. With ample hotel facilities included in your stay, such as a swimming pool and fitness centre, Crown Promenade is also within short walking distance from many Crown Perth restaurants, bars, casino and theatre, making Crown Promenade 'The Smart Choice'.
Room service
In-room dining
Enjoy 24/7 room service for delicious food and drinks delivered directly to your room, day or night. Relax as our dedicated staff ensure a seamless dining experience in the comfort of your room.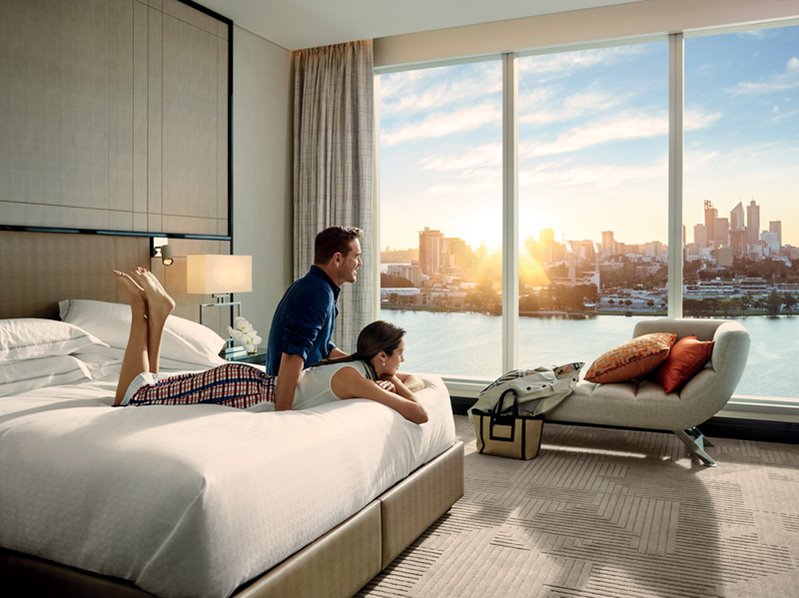 Facilities
Discover our hotel facilities to enhance your stay
The facilities on offer at Crown Promenade include an outdoor swimming pool, well equipped fitness centre and a stylishly appointed business centre to help make your stay at Crown Promenade an unforgettable one.
Business Centre
Corporate convenience at Crown Promenade
The Crown Promenade Business Centre is located just 10-minutes from the Perth CBD or 15-minutes from the airport. The stylishly appointed boardroom seats 12 people, and is equipped with the latest technology to cater for all of your corporate needs. Catering options are also available upon request with an assortment of seasonal and gourmet dishes to ensure your experience is exceptional.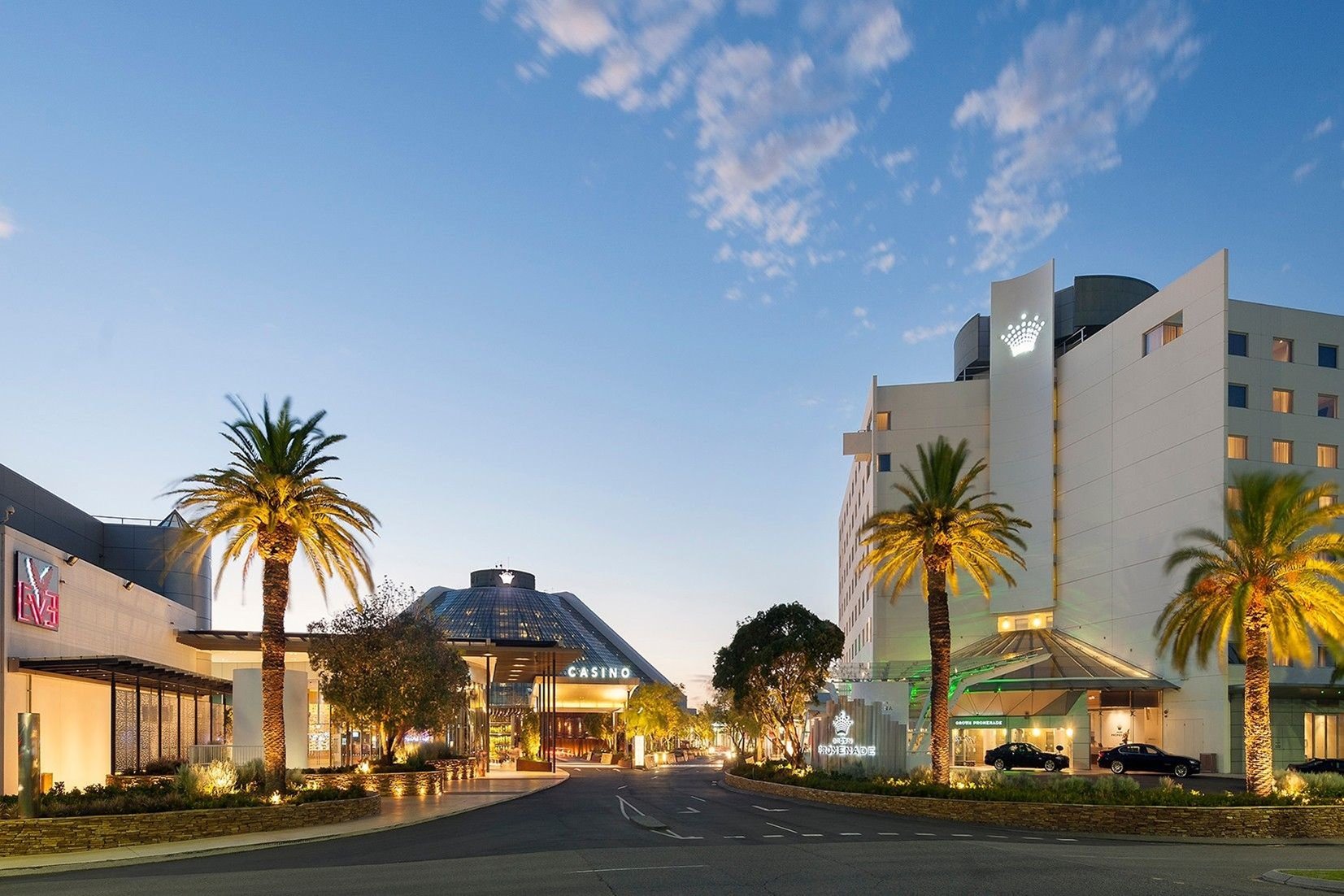 FAQs
Have a question for us?
Discover all the finer details to make your time at Crown Perth seamless and enjoyable.
How do I book using Crown Gifts card?

Package Gift Cards can be used for booking by calling 1800 808 878.

Monetary Gift Cards can be used for booking online for all rates that do not require prepayment (check the T&C's). You will be prompted to provide a credit card as guarantee, no charges will apply. Upon arrival you may present your Crown Gifts card for payment.
What time is check-in? Can I check-in early?

Check-in time is from 3pm. If there isn't a room available at your time of arrival you will still be able to register for your room and we will securely store your luggage for you. The Front Desk will call or send you a text message to advise when the room is ready.
What time is check-out? Can I get a late check-out?

Check-out time is at 11am, unless you have reserved a package that includes a later check-out time.

Late check-outs are not available Friday, Saturday, Sunday, during school holidays, special events or when the hotels are running at high occupancy. Outside of this time, late check-outs may be available for an additional fee – please call 1800 808 878 to enquire on availability.
Where can I park? How much is valet parking?

There is a range of free, paid, undercover and open car parks available at Crown Perth.
Valet parking is available at the Crown Promenade entrance. Speak to the Bell Service Captain on your arrival.
Valet parking for our three hotels costs $75.
What is Crown Promenade's licensing information?

Hotel Licence Number: 6010099010
Licensee: Burswood Nominees Ltd; Bolton Avenue, Burswood WA 6100; 9362 7777

WARNING
Under the Liquor Control Act 1988, it is an offence:

to sell or supply liquor to a person under the age of 18 years on licensed or regulated premises; or
for a person under the age of 18 years to purchase, or attempt to purchase, liquor on licensed or regulated premises.
Crown Rewards
Discover the world of Crown and be rewarded
From acclaimed restaurants and award-winning hotels to world-class gaming and endless entertainment, Crown Rewards helps you to discover the world of Crown – and be rewarded. Just show your Crown Rewards Card when you pay or play and you can start earning Points, which you can redeem for Crown experiences like dining, gaming, hotel stays and much more.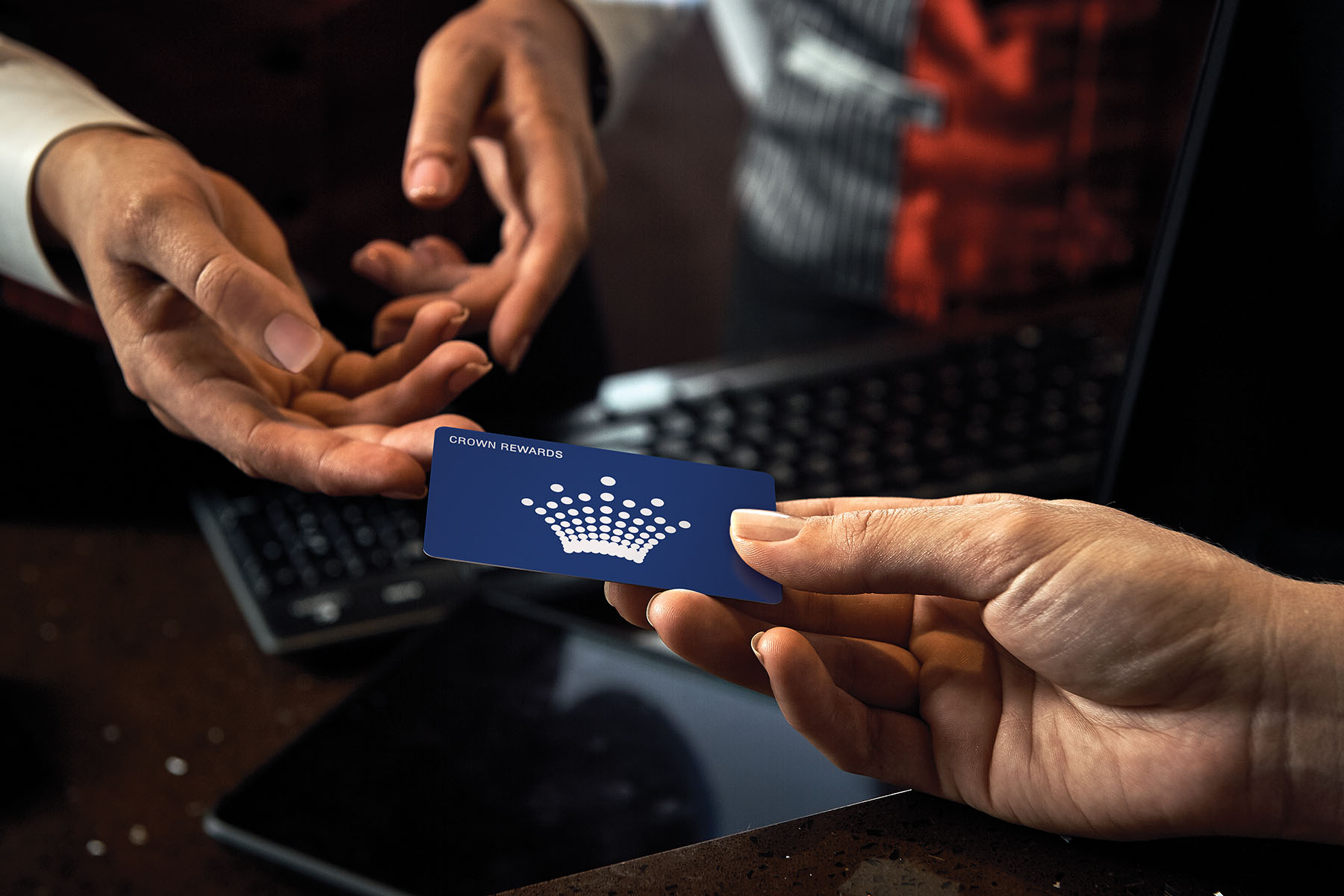 Industry awards
Crown Promenade's Industry Awards
On the banks of the picturesque Swan River, Crown Promenade is the perfect destination for both corporate and leisure travelers. See a list of our awards.
Industry Awards 2018

2018 Perth Airport Western Australian Tourism
Silver Medal: Deluxe Accommodation
Industry Awards 2015

2015 AHA Awards
Winner - Superior Accommodation
Industry Awards 2013

2013 SPICE AWARDS
Winner - Best Entertainment Complex Hotel
Industry Awards 2012

2012 HOSPY AWARDS
Winner - Best Gaming Space and Best Resort Pool